Daredevil #36 Review
---

---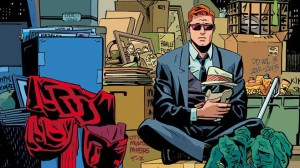 Mark Waid's current run of Darevdevil has been a special one. With tons of great artists hopping on board, we have been both visually and mentally treated to a wonderful book being delivered on a constant basis. This issue marks the end of a chapter in Matt Murdock's life that ultimately leaves as big an impact as you can imagine for our beloved, horned hero.
The final arc of this series comes to an end as Murdock finds a way to bring down the Serpent's reign in New York City once and for all. And while not as awesome a ride as the Bullseye arc, this story holds up rather nicely. The shock of what happens right from the beginning of the book is enough to make you realize how bold a step Mark Waid has taken with this character. But once that shock wears off, you begin to realize just how cheaply things have come to a head with DD bringing down the Serpents.
Sure, there is the shock of what ultimately ends up with Daredevil's identity definitively being outed, but the way the Serpents were seemingly wiped out by this shenanigan is perplexing to say the least. The fact that one display of court room theatrics, albeit tremendous theatrics, can bring down such a huge network is a tough pill to swallow given how quickly it happened.
Still, I would be remiss if I didn't talk about all of the great things this book had to offer, including Chris Samnee and Javier Rodriguez's wonderful artwork.
Where we go from here is just as exciting as where we have been. I can't wait to see what our blind hero has in store on the west coast!
Score: 8.4