Injustice Gods Among Us #8 Review
---
---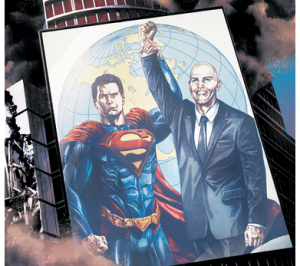 Wowsers. Was this an amazing issue or what?!? Surprisingly enough, Injustice is among the best series that DC has to offer and the fact that it is outside of the New 52 makes it an even stranger feat.
This series has been phenomenal. Given that this is a spin-off/tie-in to a video game makes this even more surprising. I'll say this, Injustice is the best Superman story since New 52. It is a Superman story that deep down inside, I felt should happen. After all, Superman is virtually unstoppable. With his powers, why is there so much crime, so many murders, so much war and travesty in this world? Theoretically, Superman has the ability to prevent this all. This is the story that Injustice hinges upon. Finally fed up with being more passive with solving the world's problems, Superman takes it upon himself to usher in a new world order whose mission it is to end all malevolence, and at almost no cost.
Finally reaching a point where some of our heroes can no longer blindly follow Superman, a revolt begins to take shape, but not before Lex Luthor can convince Superman to usher in a new era of peace. And just when things can't get any stranger or more crazy, enter Darkseid.
What we see is pure insanity and pure fun as a result. Although I am not reading this series in its intended medium (digital) I am glad I am experiencing it. If you are picking this up as it comes out digitally, or if you are waiting each month for the paper version to come out,  you are experiencing a great story. I really don't care that this book and its story hold no stakes as far as New 52 continuity. What I do care about is that I am reading a great story.
Injustice is a series that may ultimately be shoved aside and forgotten, and tragically so. All I am saying is that if you are dismissing it due to its roots as simply a video game tie-in, you are missing out on an amazing story. This issue proves that. Read Injustice.
Score: 9.4