Lazarus #4 Review
---

---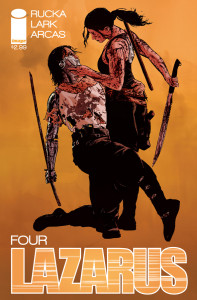 Greg Rucka and Michael Lark continue to deliver a great book in Lazarus. With each subsequent issue in the series, the story has built upon itself better than I would have thought. Just four issues in, I feel like I have been reading this book and have known its world for years. This is not only a testament to the great writing in the series, but to the solid and unique style of the art.
Starting from exactly where we left off last issue, Forever Carlyle lies victim of a missile attack commissioned by her brother and sister. As a Lazarus, Forever is pretty much a superhuman in every sense of the word. Early on in this issue, we see an amazingly well thought out sequence where Forever's other sister and lab assistant monitor Forever's life signs remotely. It is here where we catch another glimpse as to how powerful the Lazarus truly are. The writing is good here, folks.
Rucka's ability to weave a tale of personal family drama and backstabbing along with a broader picture of how the separate families interact with each other is nothing short of brilliant. The series is sort of giving off glimmers of Game of Thrones as it finds a way to juggle these various threads without being too overwhelming.
In the end, you can tell that everyone involved in this project is truly passionate about the work. Because of this, we are seeing a great story unfold right before our very eyes.
Score: 8.9