The Pull – 3-26-14
---

---
Let's get straight to the point. Here is my pull for this week:
Injustice Year Two #3
Wake #7
Satellite Sam #7
Walking Dead #124
Amazing X-Men #5
Guardians of the Galaxy #13
Hawkeye #18
Silver Surfer #1
Superior Spider-Man #30
This is looking to be another amazing week. Let's start from the top. I have said this many times before, Injustice is one of my top DC books. The main reason I love the book is because it's a no holds barred thrill ride pitting DC's heroes against one another without the need to worry about continuity. Anyone can die at any time. Hell, the book started off with the Joker detonating a nuclear bomb in Metropolis followed by Superman flying a pregnant Lois Lane into space and beating her to death. The story has been solid and fun and the fact that people like me and you supported the book ultimately meant that it was renewed to go into another year. Good stuff, people. We voted with our wallets and we got more.
Moving on, Scott Snyder has been kind of a let down for me in recent months. Batman's Zero Year arc has been surprisingly slow and…not so much fun. Likewise, Wake has been really good, but something about the last couple of issues has thrown me off. I am simply finding it hard to read. I'm sticking with it though, you can't count a guy like Snyder out.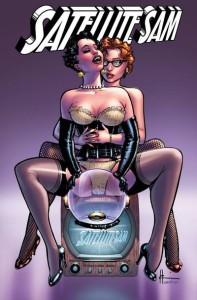 Satellite Sam is another book that has fell off of my "excited to read" list. I mean, this book started out amazing with its first couple issues. Somewhere along the way the book seemed to diminish in its narrative quality each month. I'm committed to the book, but at this point, I can't recommend it to anyone until we see how this story ends.
Next, Amazing X-Men has been a fun ride and I'll see this arc through. At this point, I feel that this book should have been built out as a mini-series and left it at that. Having yet another X-book out there seems a bit much, but hey, it's X-Men and that's what people want. I may not be on board here after a couple months, though. We'll see.
Guardians of the Galaxy continues to be an amazingly solid book with Bendis behind the typewriter. That coupled with the amazing talent on art makes this a very, very fun book to read. I'm glad I picked this book up from the beginning. I highly recommend it if you haven't hopped on board the Guardians bus, especially if you haven't read any Guardians and plan on watching the movie coming out this summer. Sure, the Guardian's books of the mid 2000s may be the superior read, but know that this iteration of the series seems to be modeled around the movie, so you might get a better idea of what to expect with this current run.
Finally, we have the all powerful Dan Slott week with both Silver Surfer and Superior coming out. The current Goblin Nation arc has been fantastic and as the story winds down to what inevitably means the return of the true Peter Parker, I can't wait to see how each piece falls in place as this goes down. Yeah, and Silver Surfer coming back with Slott writing? I'm all in.
That's all I have for you today. What books are you going to be picking up this week? Let me know in the comments!