Daredevil #30 Review
---
---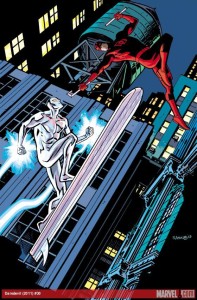 Matt Murdock is a happy man. We see him finally get to have a little fun in this issue after going through quite a bit of drama. And oh boy am I jealous of the fun he is having.
Daredevil #30 marks the return of recent Eisner Award winning artist, Chris Samnee, after a brief hiatus. This time, we see something that I am sure many wanted to see: Samnee tackle drawing Silver Surfer. Needless, to say, this is a pretty book and there is so much to love about it.
In what appears to be a transition period between major arcs on the book, we see storytellers Mark Waid and Chris Samnee put out a one-off story revolving around a mysterious being that Silver Surfer is attempting to hunt down (it is worth noting that Samnee did get story credit in this book as well as art).
We start things out with a new status quo: Now ex-Assistant D.A., Kirsten McDuffie is filling in for Foggy due to to his absence, which is quite a change. Before Murdock gets a chance to get acclimated with his new law partner, he is interrupted by a mysterious being. Both the letterer, VC's Joe Caramagna, and the color artist, Javier Rodriguez, deserve huge props for the way they convey this interruption. If you add that to the already beautiful pencils of Samnee and masterful words by Waid, what you get is a book that is running full steam on all cylinders.
Enter Silver Surfer. As IGN's Ben Bailey tweeted out earlier today regarding an image of the Surfer in this book, Samnee is a beast.
I mentioned Murdock having fun. We get to see Samnee have fun with Murdock having fun. In one of the best moments that I have read in this series so far, we see Daredevil get to ride Silver Surfer's board; all the while the Surfer is on the back of it, arms crossed with a priceless facial expression.
The mysterious being that the Surfer is pursuing eludes his senses and it ultimately takes Daredevil's amped up senses to perceive the being. Thus, we see a team-up for the ages.
As is expected, this is Waid at his best. We don't come to the end of this book without an "ah-ha!" moment. This book had me from the first panel to the last.
I love this book.
Score: 9.2