Secret Wars! – The Pull – 7-1-15
---

---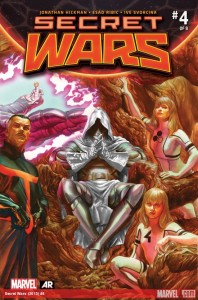 Here is my pull for this week:
Arcadia #3
I actually missed out on issue #2 last month. Unfortunately I skipped right over it when looking over my pull list. Oh well. I guess I'll just have to pick up the book digitally to catch up. The first issue was good, however, I just can't tell how good the series is as a whole at this point.
TMNT #47
TMNT has been fantastic. I'll admit, I haven't been on board this book since the beginning. I started with City Fall which hooked me. I've heard tons of great stuff about the first couple arcs; I really need to get to that some day.
Jupiter's Circle #4
Love him or hate him, Mark Millar can write an amazing story. Jupiter's Legacy started off great and this spin-off is no exception. I'm definitely looking forward to reading this book.
Outcast #10
What is there to say about this comic? This is one of the creepiest comic books that I have read in a long time. Robert Kirkman is a master of horror and suspense. Already optioned for a TV show, this is definitely a book to get on sooner than later. Check it out.
Satellite Sam #15
Matt Fraction's take on the early days of TV is definitely hit or miss. The best part of this book is Howard Chaykin's fantastic art. He gives a masterclass in dynamic scenes, figures, and substance. To appreciate this title aside from its art, however, it is best to consume as much as you can in one sitting rather than on a monthly basis. I recommend it, but it is definitely not for everyone. Also, keep this away from the children as it has as much mature themes as any book out there.
Darth Vader #7
This book has been on a roll. It pairs rather nicely with the mainline Star Wars title. Each compliments the other in ways that make this feel more like an event title rather than a standalone.
Princess Leia #5
Another great Star Wars title. Penned by the legendary Mark Waid, this great story comes to a close this week. If you haven't been reading along, I highly recommend the trade when it comes out soon.
Secret Wars #4
Finally, this is my number one book this week, maybe even this month. Secret Wars has been such a fantastic event so far, probably the best I have read in the past few years. Unlike DC's convergence, this is a universe-altering event that I can get behind. And with the recent leak detailing Marvel's post-Secret Wars universe, I am more excited than ever.
Well, that's all I have for this week. Let me know what you plan on reading in the comments!