Swamp Thing 23.1 Review
---

---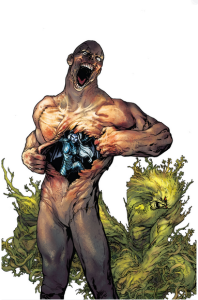 DC's Villains Month has been "just ok" so far. Nothing too spectacular has come out of the woodwork, particularly in the Batman camp. Swamp Thing's take on it, however, proves to be an exception.
This story focuses on Swamp Thing's number one nemesis, Arcane. Trapped in a rot-less world, Arcane is in his own version of hell. Nothing rots, nothing stays dead, and he can't bear to be in it. In a means to make him suffer even more, Abigail, now in the form of the Rot's avatar, comes back to give Arcane little tastes of rot, just to let him know what he is missing. Wanting to know more about her mother, Abigail uses these small tastes of rot in an attempt to coerce Arcane to divulge what he knows about her.
What ensues from here is gruesome, twisted, and scary. This issue harkens back to Swamp Thing's glory days with Alan Moore at the helm better than any I have read so far in its New 52 iteration. This is a horror book at its finest and is a must read if you are a fan of the series.
With a few issues under his belt, Charles Soule has proven that he is more than a worthy successor to Scott Snyder. This issue proves that he can stand his own ground and hang with the best of them. Jesus Saiz, the artist this issue, displays work that is nothing short of amazing. His portrayals of rotting flesh juxtaposed with beautiful scenery and wildlife is spectacular. I really hope he sticks around.
This is the book that I have been waiting for. Although this is somewhat a one-shot, it fits right at home with current continuity. I am really happy that this issue came out due to Villains Month because this is a story that needed to be told.
Score: 9.3