The AAA Hero – The Pull – 3-11-15
---
---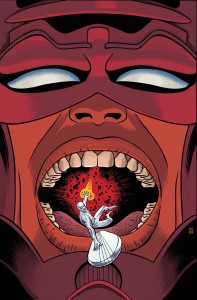 Wow, what an amazing week this is shaping up to be. And with Kansas City's comic con just around the corner, comic books are totally on the mind. And what a time to be a comic book fan. With all of this wonderful super hero news coming out about all of the upcoming movie and TV shows, it's amazing that this day and age we can have so much great comic related material for consumption. I totally envy those children out there now that are growing up amidst a world filled with AAA super hero material that is already planned to take us into the next decade.
Without further ado, here is my big pull for this week:
Injustice Gods Among Us Year Three #11
Superman #38
Casanova Acedia #2
Walking Dead #138
Amazing Spider-Man #16
Ant-Man #3
Howard The Duck #1
Silver Surfer #10
Star Wars #3
Superior Iron Man #6
Thor #6
I think I've flown the Injustice flag long enough, but it would be an….injustice…(sorry) to not wave the flag once more. When this video game tie-in finally ends, this is definitely one to pick up in omnibus format. To say this book is anything short of amazing is a travesty. In a completely shattered, alternate DC universe, Superman has become evil. Who else but Batman would lead the charge against Superman's tyranny? And with Year Three's mystical storyline involving Constantine, we have one hell of a book. Pick it up if you can. This is one hell of a AAA story. You won't be disappointed.
And speaking of AAA, did you hear about Matt Fraction and Kelly Sue DeConnick's new TV deal that's sure to make ripples in the world of expanding comic book media. Anything that these people touch practically turns into gold. Casanova #2 is coming out this week, so it wouldn't be a bad time to pick up one of his books from the beginning. The first issue was great, so I have no problem recommending this.
Superior Iron Man is another book that I would have no problem recommending. Seriously, if the premise of an inverted Tony Stark holding the city of San Fransisco monetarily hostage with an iPhone App sounds ridiculous, well, that's because it is. This book is ridiculous and the creators aren't trying to hide it. That aside, this is definitely a book that is way more fun than it has any right to be.
Lastly, I would like to talk about a AAA book that is coming to a sad, premature end. Silver Surfer has been nothing short of spectacular and was arguably the best book of last year. Seeing it end makes me weep a little in my heart. Even though the series is ending, you shouldn't let this gem slip by you. This is as close to a no-brainer book to pick up as there is. Get it. You won't regret it.
Well, that's all I have for this week. Let me know what you think in the comments!