The Best Comic Books of 2014
---
---
There were so many great books that came out in 2014. Here is a list of books that I enjoyed the most and would recommend you pick up if you may have missed out. There is no particular order to the list either. I'll also preface this by saying that no list is perfect and this one is far from it. I just hope you enjoy it and may have found a book that you didn't think of picking up before. Who knows, one of these could be one of your favorites too.
Trillium
Let's start things off with what I consider to be one of, if not the best book of the year. This book seemed to have came and went with little fanfare, especially once this little series was finished. Let's face it, how many other end of the year lists have this book on it? I don't mean this to come off like this is a bad book, on the contrary, as I stated before, this is one of my favorites of the year. I just feel like it was simply mistakenly overlooked. Well, not here. This is my chance to promote how awesome this story really was. Jeff Lemire weaves a beautiful love story mixed in with a wondrous space epic that involves time travel, aliens, and a human-kind ending diseases. Even the art on this book is a swash of water-color inspired mastery. One fantastic thing about this story is that it says what it needs to say in the amount of time it needs to say it. Simply put, there is no filler in this book; Lemire's decision to keep the series only eight issues long was brilliant. In a time where we see series begin and end after twenty-odd issues with stories left wide open, it is refreshing to get a great, self-contained story.
Superior Foes of Spider-Man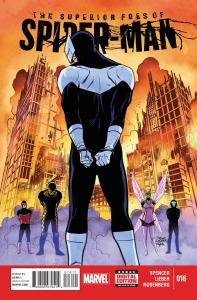 What can I say here. Superior Foes of Spider-Man is arguably the sleeper hit of the past few years. It's a shame that this book had to end due to lack of sales. Sure, I don't think anyone expected this series to live on longer than Superior Spider-Man itself, but at the same time I don't think that people expected this book to be this good. As opposed to the shorter, self-contained stories such as Trillium, I just feel like Nick Spencer had so much more story to tell. And to put it quite frankly, I would have been one-hundred percent on board. But let's back up a moment. What is this series? Well, it is a quirky, Ocean's 11 type heist story involving D-list enemies of Spider-Man. The book is funny, fun, and the art is great thanks to Steve Lieber's throwback style. If you're looking for a great, funny read, then look no further.
The Wake
There is no creator hotter than Scott Snyder these days, and justifiably so. I mean, this man has put together one of the best Batman stories in recent history in Court of Owls. To see him craft newer, independent series like The Wake and now Wytches is awesome. I love to see creators who have proved themselves in the super hero arena go back to the non-super hero stories. American Vampire was critically lauded. The Wake is nothing less than amazing either. The story spans millenniums as it explores the dawn of humankind all the way to the inevitable post-apocalyptic future that humankind sees in many stories. All of this is tied to a brilliant theme of water and water-based creatures. Add in the fact that you have Sean Murphy on art duty and you have as close as you can get to a no-brainer. If you missed this book, do yourself a favor and pick it up.
The Walking Dead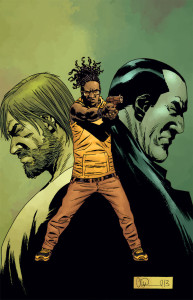 Let's face it. The Waling Dead is an amazing comic book. There's a reason that this series has taken off to epic levels of fandom. Love or hate the TV series, this is one hell of a good comic book. When Robert Kirkman announced the All Out War arc coupled with an accelerated release schedule, I was happy as many others were. The only question that I had was if Charlie Adlard could keep pace. Luckily, the team brought on inker Stefano Gaudiano to help out. Now more than ever, the art is up there with the best. Oh, and that All Out War arc I was talking about, it's great. One word, Negan. OK, let me add another word, or name rather, Lucille. If you haven't been reading this series from the beginning, I can't really say this is a good jumping on point. The only good jumping on point is issue number one really. I'd say go ahead and start there if you haven't. I'd bet a steak dinner that you won't be disappointed.
Trees
We haven't seen too much of Trees this year, but what we did see was enough for me to add this to my best of list. Warren Ellis is a proven writer, you should know that. You should also know that if he is writing an independent book, you sure as hell better pick it up. While we haven't had that definitive, fist pumping, holy crap moment quite yet, we have had enough for me to say this is a must read. "What is it about", you ask. Well, it's just about a ton of gigantic, inert,  stalk-shaped  aliens landing on earth and not even acknowledging humankind's existence. You know, just your standard alien invading fare.
Lazarus
Greg Rucka and Michael Lark are weaving a rich world steeped in a history that only these two could have put together. The world that this story takes place in feels lived in and is as bleak and traumatic as you would expect in an slavery induced oligarchical world. Our main protagonist, Forever, is a strong lead. She is as powerful as she is interesting. And her family is just as interesting. If there is an easy way to describe this series, just imagine a futuristic Game of Thrones.
Avengers A.I. 
Ok, I don't think you would have expected this to be on any year end lists. This book, not unlike Superior Foes, was surely not on anyone's radar. And guess what, not unlike Superior Foes, this is a fantastic read. Both Sam Humphries, the series writer, and Andre Lima Araujo, the series artist, deserve credit here. Coming out of the ashes of the somewhat disappointing Age of Ultron storyline, this book was dismissed by many as just another spin-off cash-in. And really, it was. But hell if it wasn't a damned good spin-off. I still feel like this book doesn't get the credit that it deserved. So here it is, here is the credit. This is a great story about a ragtag team of A.I. Avengers such as Vision, Victor Mancha, and Doombot. I mean come on, DOOMBOT! While the series ended prematurely, it is definitely worth a read even post-mortem as this is pretty much one self-contained arc.
Well that's it. there were so many other awesome books this year that deserve honorable mention. Books like Batman, TMNT, and Amazing Spider-Man all continued to be great. Nothing new there. But when I look back at the books that I enjoyed most in 2014, there aren't any real core superhero stories. Rather my list is mostly indie books, which is something new to me. The indie scene is as big as it ever was and is as good as it ever was. This is good for not only you as a reader, but for the entire comic book industry itself.
What was your favorite book of 2014? Let us know in the comments!