The Best Comic Books of 2015
---
---
With 2015 over, it's time to look back at the year that was. I really, really enjoyed what 2015 had to offer. And of everything that I read, the following is a list of comic books that I personally enjoyed the most. Of course, everyone's personal tastes are different, and that's fine. I just want to share what I thought were the best comic books of 2015 and would have no reservations recommending.
The following are in no particular order.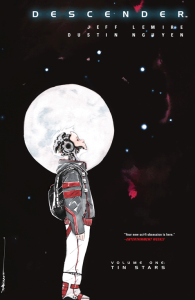 Descender
In 2014,  Jeff Lemire killed it with Trillium. That was easily one of the year's best books. And in 2015, he killed it again with Descender. This title follows the life of a very tragic robot boy in a galaxy that is out to erase the world of robots, but for reasons that may or may not be justified. Awash with the whimsical water-color style art of Dustin Nguyen, this title is surprisingly dark, while maintaining a sense of wonder and thoughtfulness that a Jeff Lemire independent can have. I can't recommend this book enough.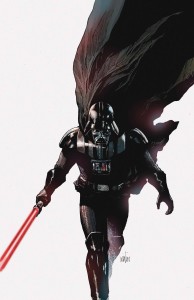 Darth Vader
Of all the Star Wars books that came out in 2015, I have enjoyed the Vader series the most. That's not to say that the other Star Wars books were slouches. They were all great in their own way. It was hard for me to choose between Vader and Lando. Lando was an amazing heist book that comes highly recommended. And the fact that it was a mini series makes it more attractive in my eyes. But when it came down to it, I couldn't resits the dark side, Vader is the superior book of all the Star Wars books out in 2015. This book chronicles Vader's journey and shame after the destruction of the first Death Star. Not only does this book show how he deals with that, it shows how powerful he can truly be.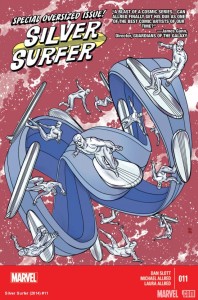 Silver Surfer
Dan Slott and Michael Allred have knocked it out of the Park with Silver Surfer. I can't remember having so much fun reading a Surfer book. This title is fun, smart, endearing, beautiful, and heart warming all in one. This is a journey of not only the Surfer, but of his newfound companion, Dawn Greenwood across the universe. Hell, even the Surfer's board, dubbed "Toomie", gets his own, great personality in this book. Of all the comic books that I have read in 2015, Silver Surfer is easily my favorite and is hands down my highest recommended book of the year. Do yourself a favor, start from the beginning and don't look back.
Outcast
It was no surprise that Rober Kirkman's Outcast was going to be huge. Optioned for a TV show before it even came out, Outcast was bound to be at least a minor success. But when this book hit store shelves, I had no idea that it would be so creepy and so great. I've never really been a huge fan of supernatural stories about ghosts or possessions, but this book stuck with me. It is truly a scary book that is even more pronounced by Paul Azaceta's wonderfully scary art. This guy knows how to portray this subject matter better than I have ever seen. You still have time to catch up on this great series before it hits TV later this year.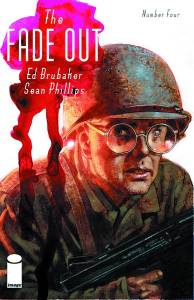 Fade Out
It is a no-brainer that Ed Brubaker and Sean Phillips can put together a fantastic crime-noir book. They've done it time and again and Fade Out is no exception to that rule. Fade Out tells a tale of a post-war Hollywood murder mystery from the eyes of the screenwriters of the past. This book is intriguing, raunchy, dark, and mysterious and I can't recommend it enough. If you are a fan of this duo, you already know what to expect here. If you've never read them before, why not start here?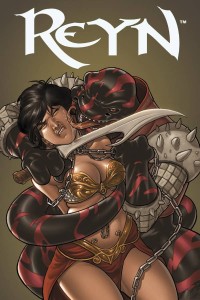 Reyn
Here is a book that had no right to be this good. Of all the books in this list, this is probably one of the craziest. What started out as a medieval tale of a drunken warrior turned into a crazy, post-apocalyptic space adventure that takes place thousands of years in the future. I had no idea what I was getting into with this book, but I am glad I started this ride. Sure, there are some really hokey moments in this book that are borderline cringe-worthy, but given the context of this adventure, it fits right in. Kel Symons and Nathan Stockman have put out a book that I was sure would get cancelled after a few issues, but have stayed around long enough to leave a lasting, but good impression.
And those were my favorite books of 2015. Sure, there were other great books that came out which deserve an honorable mention including The Walking Dead, Ant-Man, Howard the Duck, and Injustice, Gods Among Us just to name a few.