The Pull – 1-21-15
---

---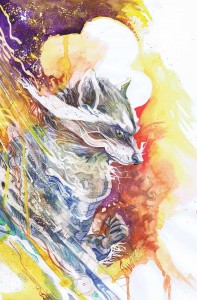 Last week was amazing for comic books. Injustice Gods Among Us put out a very strong entry to the series that changed the pace of what we are used to in the series. It was refreshing, fun, and sad all at the same time. This is one alternate DC reality that no one should be missing. Also, Jupiter's Legacy came back as strong as ever. Both Mark Millar and Frank Quitely have proven that this is one damn great series. If you haven't read this book, you really don't know what you're missing.
We also had Marvel's debut of Star Wars come out, which was fantastic. However, there was one book that stood out from the rest last week which brings me to my comic of the week. Silver Surfer is arguably the best new series of last year. Dan Slott and both of the Allreds on this book are putting out a fantastic series. Last week's issue was both fun and emotional. This current little arc is something that has been long coming for the Surfer and it is sure to put his relationship with our story's female protagonist, Dawn, to the test. This is another series that you would be crazy to miss.
Last week is over, though. This is what I plan on picking up this week:
Kitchen #3 
TMNT #42
Amazing Spider-Man #13
Guardians of the Galaxy #23
Superior Iron Man #4
This definitely isn't the longest pull list I've had. It's not even the strongest. But there are a few awesome books that are coming out this week like TMNT and Spider-Man. TMNT is about to get crazy again with Donnie taking matters into his own hands in order to stop Krang from completing the Technodrome. Will his abandonment of his brothers prove to be the end of the family? Ha! More than likely not, but this is one hell of a story.
And before I leave you this week, let me just let you know that Superior Iron Man is way better than what most critics out there say it is. Sure, it's not greatest series out there now, but it is pretty great and worth the read, I'd say. Being one of the only books to come out of the Axis event last year, it's in small company. However, seeing an inverted Tony Stark is more fun that it should be. While this series will definitely not last long, I'm sure it will continue to be this good until the end.
That's all I have for you this week. I'm sure many of you would completely disagree (or maybe agree) with my picks for this week. If so, let me know in the comments!