The Pull – 2-10-15
---

---
The comic book medium is one that is as fun as it is diverse. In a time like now, creators have the opportunity to write completely disparate stories across multiple publishers. Take Matt Fraction, for example. This man has done something that, looking back, we may consider game changing. He was able to make Hawkeye a completely relevant and fun character in a time where not many thought it possible. His career with Marvel is impressive and important. With his breakout he was able to branch out into the indie scene to put out popular and odd books such as Sex Criminals and Satellite Sam. Now, with the successful release of Casanova, he is hitting full stride with his creative juices. This is but one example of a creator having the ability to dabble into multiple genres across multiple publishers successfully. And this makes everything about this medium all the more fun. Hell, even Fraction's current Sex Criminals partner, Chip Zdarsky, is putting out Howard the Duck in a month for Marvel.
This is why I'm excited about this week's pull list. After too long a hiatus, the criminally underrated Satellite Sam  is coming back. I'm not saying that Fraction was the first to do this, he wasn't. But the fact that such opportunity still pervades in a business where exclusive deals still exist says something. I am all for giving creators the outlet they deserve. It leads to better stories which makes us readers more the happier.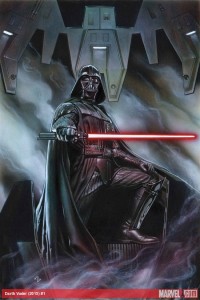 So without further ado, here is my pull for this week:
Injustice Gods Among Us Year Three #9
Satellite Sam #11
Walking Dead #137
Amazing Spider-Man #14
Cyclops #10
Darth Vader #1
Guardians of the Galaxy #24
Thor #5
And speaking of criminally underrated books, Cyclops has been simply fantastic. Though Greg Rucka quickly jumped off the book, it remained solid. This tale of father and son is fun, exciting, and very well produced. From the writing down to the pencils and coloring, this book deserves to have more attention than it is currently receiving. Once this book ends, be sure to check out the inevitable compilation. It's definitely worth the read if you are a fan of space pirates.
Coming off the heels of Jason Aaron and John Cassaday's Marvel premier of Star Wars, the new Darth Vader series is up next. Kieron Gillen and Adi Granov are two creators more than suited for the task of putting out a worthwhile read. While we are getting awesome books like Spider-Man, Guardians of the Galaxy, Thor, and even The Walking Dead coming out this week, I  can't say there is a book I am more excited to read than Darth Vader. I'd like to say to keep your fingers crossed on this one, but this is as close to a no-brainer a book as it gets.
That's all I have for this week. What are you planning on picking up and reading? Let me know in the comments.