The Pull – 2-26-14
---

---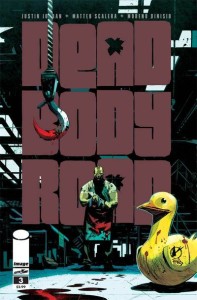 Another relentless week in comics:
The Wake #6
Teenage Mutant Ninja Turtles #31
Dead Body Road #3
Satellite Sam #6
The Walking Dead #122
Guardians of the Galaxy #12
Hawkeye #15
Superior Spider-Man #28
This is a quality week for me. Let's start by talking about Scott Snyder and Sean Murphy's Wake. After a great start followed by a brief respite, we are back. The closing of the first chapter was a great one that made it all the harder for me to wait a couple months for the series to pick back up. The writing in this book is great, but for me the art takes the cake. From the pencils and ink all the way down to the colors on this book, it is a pleasure for the eyes.
Moving on, TNMNT has been a fabulous read. I was really neglecting the series until last year's Secret History of the Foot Clan mini-series got its hooks in me. City fall has been a fantastic thrill ride that has been so much fun. While that little thrill ride is over, the ramifications of what has happened to our beloved turtle brothers lingers on. This is a great read that I highly suggest you read. If you do decide to hop on board, be sure to pick up and read the City Fall arc first as you may be lost coming in at this point.
And there is Dead Body Road. I picked this one up on a whim, the title sounds awesome right? Well, the book has been fantastic so far. If any book I have been reading so far feels like it will be adapted to a movie, it is this one.  What do you think? Leave a comment and let me know if you have been reading this book.
Hawkeye, once the gem of the Marvel world has been coming out at an alarmingly sparse rate. This is the book that other books want to be. Matt Fraction's writing style has been imitated and justly so. Just look at Charles Soule's She-Hulk and even Superior Foes of Spider-Man as an example. Both of those books are fantastic, but would they be around had Hawkeye not come along? I really don't think so. Needless to say, I am really excited about this book and just hope that its creative team stays together. It would be a travesty to see either David Aja or Matt Fraction leave.
What are you reading this week? Let me know in the comments!