The Pull – 4-30-14
---
---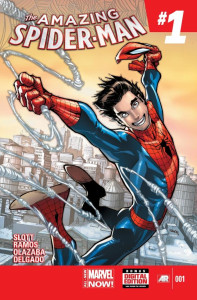 This seems a little light, but I'm not complaining. This is going to be a crazy summer with Original Sin, Warren Ellis' Trees, and Robert Kirkman's Outcast on the horizon in addition to everything else.
Injustice Gods Among Us Year 2 #4
Amazing Spider-Man #1
Avengers A.I. #12
Silver Surfer #2
Injustice is a fantastic alternate reality DC series where anything can happen to anyone at any time. With as many reboots and universes out there, this reality is just as viable as any, and that's what makes this series special to me. It is its own microcosm where the unthinkable can happen. I was introduced to this series through the game and am glad that I was. This is a great read that I'd recommend to anyone interested in the DCU.
Of course, the obvious big event here is the return of Peter Parker, but I would be remiss if I didn't mention Avengers A.I.. This is a series that gets no love at all. I am glad I picked this series up from the beginning as I have enjoyed a very, very fun and creative story. I can understand if you weren't a fan of Age of Ultron (I was) and therefore dismiss this series. Still, I would urge you to give this series a try. The story is fantastic and the beautiful and consistent art bring this book over the top for me.
What are you planning on reading this week? If you have read Avengers A.I., what are your opinions on the book? Let me know in the comments!