The Pull – 8-27-14
---

---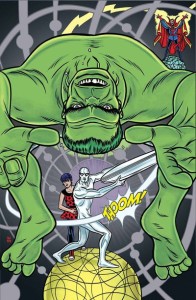 Here are the books to look out for this week (or at least this is what I plan on picking up tomorrow):
Injustice Gods among Us Year Two #10
Superman #34
TMNT Turtles In Time #3
Low #2
Outcast #3
Cyclops #4
Guardians of the Galaxy #18
Inhuman #4
Silver Surfer #5
Let's start off at the top of the list. I have said this many times before and I will keep on reiterating the point, Injustice is an amazing book. This is turning out to be one hell of an alternate DC universe that takes advantage of the fact that there are no restrictions. Anything can happen and that's what makes this so exciting. (Spoilers for the VERY beginning of this series, so skip to the next paragraph if you plan on reading Injustice) When a story line starts with Superman taking Lois Lane to outer space with his unborn child in her womb and beating her to death, you know you're in for one hell of a ride.
Meanwhile, it seems like Image is the hottest publisher around.  Robert Kirkman's newest title, Outcast, has been strong while Rick Remender's Low started things off on a strong note. With all the biggest names taking time to craft their own stories with almost no limitation, you are going to be left with a wide variety of amazing books. Matt Fraction, Warren Ellis, Ed Brubaker, and many more are providing us with an amazing amount of great reading. If it's an Image #1, you might as well give it a shot.
On to the Marvel front we have the very fun Cyclops book by one Mr.Greg Rucka who is also putting out a great Image book by the name of Lazarus that you shouldn't be missing. Bendis' Guardians of the Galaxy has been solid as well as Soule's Inhuman and Slott's Silver Surfer. There is a ton of great stuff out there, folks. This is why I love this medium so much. And with Labor Day right around the corner, there is plenty of time to read up.
So, what are you planning on picking up this week? Let me know in the comments; I'm always interested in hearing what you have to say.