The Walking Dead #114 Review
---
---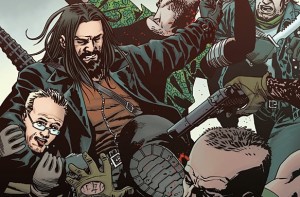 With a big event for this comic on the horizon, Robert Kirkman isn't shying away from the action. After attempting to off Negan at a moment's notice, Rick found himself and his group outnumbered and eventually caught. Believing that Andrea is dead, Rick is in tears at the beginning of this issue. And once you think that all the action is done, you are wrong.
Somehow, Kirkman figures out a way to surprise you, even after 114 issues. He is a master writer and deserves all the credit he gets. I mean, who would have thought that you would see a full grown pet tiger kill a man years after a zombie apocalypse? Sure, we knew that Ezekial's pet tiger would come into play sometime, but the execution was brilliant.
This issue shines through with some pure awesomeness and is proof that no one should have doubted the fact that the issues leading up to All Out War would be tame and weak. They have been anything but. Rick finds himself finally out of Negan's hands with the help of Jesus and a tiger. I can't believe I just wrote that. Now he is hell bent on ending Negan's run. And with Jesus giving him quite the pep talk, I think he completely feels up for it.
And Charlie Adlard's art is on par for what you would expect from him. Nothing more, nothing less. At this point, if you are still complaining about his art, you need to stop reading the book or stop the whining. Having this artist on this book for so long gives the entire series a unified identity that makes it all the more special. This guy has delivered over a hundred consecutive issues on this book. That, my friend, is quite the accomplishment.
Next, we have war. Bring it on.
Score: 8.9