The Walking Dead #119 Review
---

---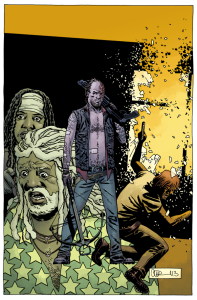 After a brief hiatus for the 2013 holiday season, The Walking Dead is back and is as unrelenting as ever.
Continuing on with the incredible All Out War event, issue #119 comes to us after a dramatic storytelling event narrated by Ezekiel in which he lead his troops to slaughter and lost Shiva in the process. Obviously traumatized by the incident, we see him deal with the consequences of such a horrible tragedy for him. In a cliche´, but awesome moment, Michonne punches the man square in the face in an effort to shake the grieving man  out of his withering state. The interplay between these two characters as of late has been a strong point for both, especially Michonne. After being through so much, Michonne is as hard and cold as ever, and she lets Ezekiel see every bit of it.
In what would initially appear to be a respite from the past couple issue's battle scenes, we are abruptly brought back to reality when Negan and his men find their way back to Rick's camp earlier than expected. The way this book ends is both shocking and awesome at the same time. Trust me, you are going to be counting the days before the next issue is released.
The art in this book is as solid as ever, especially with Charlie Adlard stepping back from inking the art in order to accommodate for the rapid release schedule. Figures and faces are as detailed as ever while Stefano Gaudiano puts on his best Charlie Adlard inking hat replicating Adlard's inking style as good as you can ask.
With so much left to be told in this event, there is plenty to be excited about. Though this series may best be read in large chunks and in trade format, you won't be disappointed if you decided to pick this up issue to issue as we have been treated to an exciting, dramatic, and violent story. So far, All Out War has been living up to all of the hype.
Score: 8.7