Tim-21 – The Pull – 3-7-16
---
---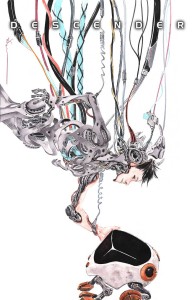 This week I just want to hit on one subject real quick. Actually, that subject is a creator, Jeff Lemire. Descender #11 releases this week. I can't recommend this title enough. Jeff Lemire has crafted a remarkable universe with remarkable characters and a remarkable story in Descender. The main protagonist is a very endearing child robot named Tim-21 that can't help but tug at your heart strings. His tragic journey through life is that of bewilderment and astonishment. It's no wonder this title has already been optioned for a TV series (though I feel it would fit better in movie format). If you haven't already, read Descender. Like I said, I can't recommend it enough.
And while we're on the subject of Jeff Lemire, it is totally worth it to pick up his title, Trillium. Lemire both penned and drew the book. Needless to say, it is a gorgeous book with an equally gorgeous story. Lemire is red hot these days, and not only on the independent market. He has been putting out great runs in Hawkeye and Extraordinary X-Men for Marvel as well.
As of now, Lemire is one of my top creators. If you haven't been on board of any of his recent titles, now is the time.
Here is my pull for this week:
Descender #11
Jupiter's Circle Vol. 2 #4
Amazing Spider-Man #9
Doctor Strange #5
Vision #5
Oh yeah, Vision has been fantastic too. Read it!