Waid and Samnee are Back! – The Pull – 2-29-16
---

---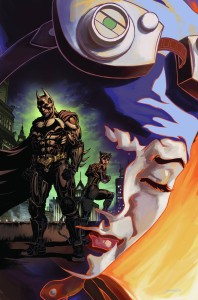 Mark Waid and Chris Samnee put together a Daredevil run over the past few years that is already being hailed as a classic. If you haven't had the opportunity to read that run, do yourself a favor, get a subscription to Marvel Unlimited, hunker down, and enjoy. Waid and Samnee's run was arguably the best super hero comic book on the stands as it came out each month. It was sad to see not only their run end on DD, but it was sad to see the duo part ways.
Enter 2016. The Waid/Samnee duo is back! Black Widow get's the all-star treatment this time around. I'll be the first to admit that I'm not that huge of a Widow fan, however, I can't see anything that would keep me away from reading this book. There's literally nothing. From Mark Waid's seasoned talent all the way to Chris Samnee's Eisner Award winning art, this book is as close to a no-brainer that you can get. I can't wait to see what's in store for Black Widow with this team at the helm!
Moving on, the wildly popular (and wildly good) Injustice continues to come out at a relentless pace. I am simply astonished by not only how good this series is, but how long it has lasted. This is another title that may well be worth your money in omnibus form.
Finally, as The Walking Dead continues to be fantastic on TV, the comic book continues to blaze the trail. Robert Kirkman knows how to tell a nail biting, torturing story that will keep you enthralled even after 150 issues. Just when you think the last big bad was the worst, something even more sinister comes along. I can't wait to see Alpha depicted in the TV series, but for now, we get to enjoy the series in its original format.
That's all for this week. Here is my pull:
Injustice Gods Among Us Year Five #5, 
Swamp Thing #3
Walking Dead #152
Black Widow #1
Darth Vader #17
Invincible Iron Man #7
Old Man Logan #3
Spider-Man #2
See you next time!