Trees are Back – The Pull – 2016-08-03
---
---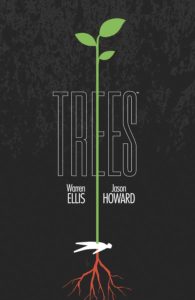 It has been a long, long time since one of my favorite new series has had a release. Warren Ellis and Jason Howard are finally returning with a new installment of Trees. Though a slow burner at the beginning, we are about to enter what I feel is going to be an epic arc. This story is shrouded in mystery and imminent horror. I can't wait to see where this goes. Our storytellers have managed to pull me in full stop; if you haven't hopped on-board this train yet, do so and it will more than likely pull you in the same.
Oh yeah, this week also sees the wonderful Paper Girls release a new title as well as the beginning of a major war-bound story arc in The Walking Dead. This is a great week.
Here is what I plan on picking up:
Batman #4
Injustice Gods Among Us Year Five #15
Low #15
Paper Girls #8
Tokyo Ghost #9
Trees #14
Walking Dead #157
See ya next week!