Arcadia – The Pull – 5-13-15
---
---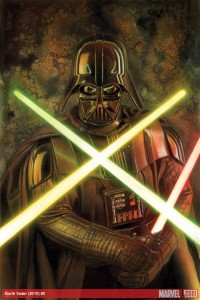 I kind of feel bad for Dark Horse. I mean, their most profitable comic, Star Wars, was brought back to Marvel after Disney Purchased the franchise. While we are currently enjoying a few awesome new Star Wars books by Marvel, there were awesome books ended as a result of the Disney acquisition. Brian Wood's mainline Star Wars book was fantastic and even tread similar grounds as the current Marvel books. Too bad it's no longer canon.
Though Dark Horse lost that beloved franchise, we should look at it as an opportunity for them to put out other great new books, great new IP for them and us to enjoy. Enter Arcadia. This book, by Alex Paknadel and Eric Scott Pfeiffer, appears to be the start of something special. The series' premise alone was enough to get my interest piqued:
"When 99% of humankind is wiped out by a pandemic, four billion people are "saved" by being digitized at the brink of death and uploaded into Arcadia, a utopian simulation in the cloud. But when Arcadia begins to rapidly deplete the energy resources upon which the handful of survivors in the real world (aka "The Meat") depends, how long will The Meat be able-and willing-to help?"
Yeah, that sounds as awesome as it really is. This book lived up to my expectations and, as such, is definitely worth the read. Both the dialogue and the art of this book were spot on. The world building is as good as it gets. By the time I was done reading this book, I was completely invested. If this series continues to be as good as this first issue, then we are in for one hell of a ride. Pick up the first issue if you still can and enjoy.
And with that, here is what I plan on picking up this Wednesday:
Injection #1
Injustice Gods Among Us Year Four #1
Chrononauts #3
ODY-C #5
Reyn #5
Walking Dead #141
Darth Vader #5
Howard The Duck #3
Secret Wars #2
Thor #8
There are two books that I have been reading out of Image that are worth a mention: Chrononauts and Reyn. Starting off with Chrononauts, this book by all-star creators Mark Millar and Sean Murphy is a fun romp through time that takes what you would think a time travel story would be and flips it on its head to give us something both unique and special. Give this book a shot if you're looking for some fun.
Reyn, on the other hand, feels less like an Image published book and more like something you would see out of Dark Horse or even Dynamite. And that's not a bad thing. This book is way better than it has any right to be. Series creators Kel Symons and Nathan Stockman bring us a weird mash up of medieval meets technology meets magic meets aliens that just works. While not the thought provoker of a comic you would expect, this is a fun book that, while light on philosophical dialogue, is heavy on fun and adventure. It's definitely a book I would recommend.
And with that, I will have to leave you. What are you looking forward to reading this week? Let me know in the comments.