Comic Reviews – 11-6-13
---
---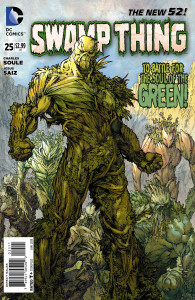 Here is my rundown for last week's comic reviews:
Superman Unchained #5 – 7.8
Swamp Thing #25 – 9.5
Amazing X-Men #1
Let's start with my book of the week: Swamp Thing #25. Coming off of an amazing second annual, this series continues to be in great hands post-Scott Snyder. Charles Soule proves that Swamp Thing is here to make a statement. And while the story is amazing and clever, it was clearly the art of Jesus Saiz that put this issue over the top for me. I don't think I have seen a more beautifully drawn Swamp Thing book than this; and that says a lot. As far as I'm concerned, it doesn't get any better than this, and at this point, this may be my number one DC book.
Lightning round: Trillium continues to be pure brilliance on all fronts; Batman Superman is better and more of a normal super hero book; Superman Unchained is disappointing considering the creative team behind it; Amazing X-Men is fun and intriguing; and finally, the Mighty Avengers continues its mediocre run.
That's all I have for now.