Daredevil #29 Review
---
---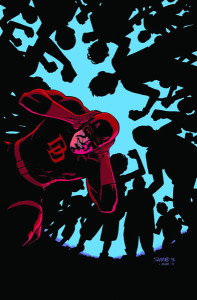 For the second issue in a row, recent Eisner Award winner, Chris Samnee, takes a back seat to the more than capable Javier Rodriguez.  Again, Rodriguez delivers in a style that is eerily close to Samnee's art while having its own voice.  With both artists tackling the coloring of the issue, everything feels just like it should.
The issue takes off immediately where issue #28 left off, which is a rather precarious situation for both Matt Murdock and his client in the court room. In what turns out to be an action packed super hero story, Daredevil hits all the right beats. Mark Waid continues to intertwine court room drama, mystery, action, and character development just as good as any writer out there. Waid is even able to humanize Daredevil in ways that I haven't seen.  The scene where Daredevil has to ask the person he is saving what floor they are on because he can't see and read the sign was funny and endearing.
What ultimately becomes a sort of beginning point for what appears to be the next big arc, I can't say I was disappointed. Daredevil knows who the bad guys are and he is rearing up to stop them at all costs.  This issue hits all the right beats, and while this read is certainly not up there with the conclusion issues of the Bullseye story, it sets things up for more goodness to come.
Oh, one last thing: Silver Surfer next issue.  Yep, with Samnee at the helm next month, I can't wait to see what is in store for Mr. Murdock. What business does the Surfer have in Hell's Kitchen? I can't wait to see.
Score: 8.4