The Pull – 11-5-14
---

---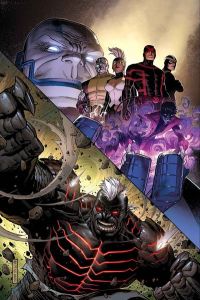 Despite the smaller number of books in my pull last week, there were some great titles including Low and Guardians of the Galaxy. This week is just about the same in terms of quantity. Still, what matters is quality, right? Here is what I'm picking up on Wednesday:
Robocop #5
Injustice Gods Among Us Year Three #3
Swamp Thing #36
Amazing Spider-Man #9
Avengers and X-Men Axis #4
Quality is a subjective thing, sure. Where one might look at my pull and see high quality, others may look at it and see the opposite. When it comes down to it, though, I really don't think that this is that great of a pull for me in terms of quality. Let me explain why.
Let's start off with Robocop, which I have a nostalgic soft spot for. After hearing the creator talk this book up in an episode of the Assemble After Dark podcast, I was more than excited to pick this up. After four issues, though, I'm not really digging this book. It just doesn't hit that spot for me like the movie did. I really can't say that I've read read a Robocop comic that lived up to its source material. Too bad, because I really looked forward to this.
Injustice, however, has been quite the opposite. Who would of thought that a video game tie-in comic would be so good? I sure didn't and I suspect that most people were in the same boat. I need not talk more about this, just read it.
Swamp Thing is on my short list of books to drop, but that is not due to its quality. Rather, the fact that Charles Soule is leaving the book in a bit just makes me a sad man. For me, its fair to say that when Soule is out, I'm out.
Amazing Spider-Man is a quality book. Need I say more? Slott has been killing this series for a long time so there really isn't much to expect than quality here.
Finally, Axis has been, well…not that great? Hey, I'm enjoying reading this title, but so far this story has yet to really get it's hooks in me. I'll admit, though, I haven't been reading Remender's books leading up to this, so maybe that may be the problem.
Overall, this is not a bad pull for me in terms of quality, it's just not that great.
That's all I have. What are you planning on picking up?