The Pull – 3-5-14
---
---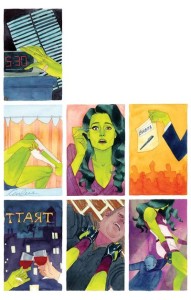 Great books coming out this week. Here goes nothing.
Swamp Thing #29
Trillium #7
Turok #2
Jupiter's Legacy #4
Avengers A.I. #10
She-Hulk #2
Uncanny X-Men #18
Trillium is coming to an end and this week's penultimate issue is high on my radar. Jeff Lemire has been on fire here, folks. If you have missed this series altogether, don't fret. The trade is soon to come out, so I highly recommend you pick it up when it does. At this point, barring a complete and total disaster, this is bound to be an amazing, must-read mini series.
If Avengers A.I. has completely flew under your radar, I don't blame you. It is an easy book to miss. The thing is, the book has been way better than I could have ever guessed. It is a fun read with fantastic art to boot. I don't know how well sales have been for this book, but I can't help but feel worried this series may end sooner than later. I recommend this book to anyone out there looking for a fun read.
Love him or hate him, Mark Millar's Jupiter's Legacy has been great and where we ended in the last issue cemented the fact that I need to be reading this book. It's not too late to hop on board this train, so I'd say go for it.
What are you planning on reading this week? Let me know in the comments!