Trillium #7 Review
---

---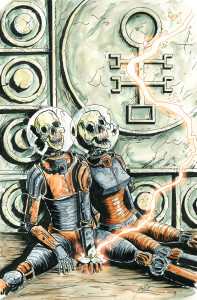 Trillium has found a way to weave an intricate and dense plot into something that is not only out of this world, but is out of this time. Jeff Lemire's whimsical nature of crafting this book is as solid as it was from the very beginning. Details are everything here, all the way down to the fully realized alien language the pervades through the entire book. This, folks, is a great read that no one should miss.
What ultimately becomes the "last love story ever told," Trillium is a pleasure to read and to look at. From the washed out water color art to the beautifully rendered alien worlds, you are getting one hell of a book. You can tell how much time Lemire put into this book. There are panels here that seem like it would have taken him mind-numbing hours to create just to have him wash over them with water color in a messy, but perfectly fitting way.  And remember how well Lemire pulled off that book flipping "gimmick" in the first book? Well, it should come as no surprise that you are seeing the same thing here and to just as great an effect as you can ask for.
It's hard to go into too much detail about the story without spoiling anything, but one thing you should know if you aren't familiar with the book is that this isn't your ordinary super hero beat-em-up book. This is a thought provoking book that holds up narratively with the best that both modern film and literature have to offer. Don't expect to read this book piecemeal, you have to be invested in it all the way, which shouldn't be a hard thing to do considering the fact that this mini-series is ending at issue #8.
If any book begs to be read in trade format, this is it. As we stand right now, this is going to be one of those books that begs to be read on an annual basis.
Score: 9.4