The Pull – 6-11-14
---
---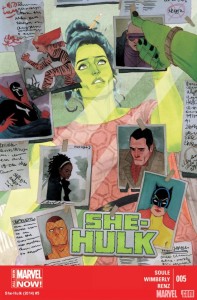 It's been such a hectic week. I am still trying to get through all of last week's books while I'm keeping up with E3. But, alas! The relentless pursuit of all these comic book companies vying for both our mind and wallets never ends. Wednesday is coming up along with some great new titles. Here is what I plan on picking up this week. Let me know what you are planning on picking up in the comments below. Here we go:
Star Wars #18
Walking Dead #128
She-Hulk #5
As you can see, there is not much I'm picking up this week, but I'm fine with that. With E3 going on this week along with a small back log of books, this will give me some time to breath. That aside, this is a Walking Dead week. After such an amazing time  with All Out War, we were treated to a very large and great followup issue. I was delightfully surprised to find the double-sized issue #117 on the shelves with the $2.99 price tag intact. Robert Kirkman is a rich man already, it is nice to see him do things like this which ultimately benefits him as loyal Walking Dead readers will continue to flock to the store each week. Bravo, Mr.Kirkman, bravo…
Another fun book that is sadly coming to an end is Brian Wood's Star Wars series that is still flying under the Dark Horse banner. Yes, Dark Horse's longtime reign on the Star Wars property has been good as of late. The Force War series just wrapped up and was a fun read. Brian Wood's current run is fantastic. Still, all things must end. Let's hope this series goes out on a high note in the next few months. Let's also hope that Wood and Marvel are working closely together to maintain this current run under a new publisher if that is even legal.
Finally, Charles Soule's She-Hulk has been fun. Soule is on fire these days. He is on about as many books, if not more, than Brian Michael Bendis. Everybody wants a piece of him and they are getting it. You would think that he would be overextended with the amount of books he is writing, but that doesn't seem to show. The quality of his books has maintained excellence. Just last week we had Swamp Thing #32 come out which was great. Not that much longer before, we had Inhuman, which despite contrary belief, is really good. There are other books out there that he is on that I'm not reading, but from what I can tell, they are doing well. Hell, this guy is an Attorney AND a musician. How the heck is he consistently this good?
Well, folks, that's all I have for this week. What are you planning on reading? Let me know!